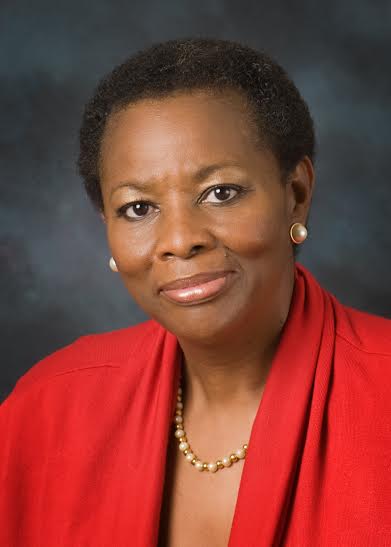 The American Cancer Society (ACS) Breast Cancer Support Group in Southwest is marking its fifth year of community work. The laudable impact of the SW ACS group includes providing a safe and supportive space for more than 300 women and men living with breast cancer, other cancers, and patients' caretakers. The anniversary was officially celebrated April 15 at Graduate School USA.
The celebration highlighted guest speaker Dr. Lori L. Wilson, division chief of surgical oncology at Howard University Hospital. Dr. Wilson articulated her journey and work as an accomplished oncology researcher and surgeon, indicating to the support group that it was the first time since her diagnosis in June 2013 that she had ever publicly shared her story. Diagnosed with bilateral breast cancer at age 44, she recently told Essence magazine: "Being a cancer surgeon, being a Black woman in the United States diagnosed with two different types of breast cancer pre-menopausaly [sic] with an 18-month-old baby. There is probably not another woman like that." Dr. Wilson's personal story is profiled in the new documentary by Ken Burns, "Cancer: The Emperor of All Maladies," which recently premiered on PBS.
The program was emceed by Rea Blakey, an Emmy-award winning journalist and former CNN correspondent and WJLA-TV news anchor/health reporter. Blakey now works at the office of Professional Affairs and Stakeholder Engagement at the Food and Drug Administration where Patient Focused Drug Development (PFDD) meetings are a major initiative. ACS Breast Cancer Support Group founder and facilitator Thelma D. Jones spoke at the April 2 Breast Cancer PFDD meeting.
Another celebration highlight included two rousing renditions by recording artist Miriamm Wright McKinney, founder and chair of the Edith P. Wright Breast Cancer Foundation. Wendy W. Johnson, CEO of the EPW Foundation, presented ACS Breast Cancer Support Group founder and facilitator Thelma D. Jones with the foundation's signature tee-shirt and welcomed her as an honorary member of Eydie's Angels in recognition of her outstanding contributions to breast health. Background music for the event was provided by Saleem Waters.
The celebration was punctuated with congratulatory letters and flowers to Jones from support group member and breast cancer survivor Michael Brookins of WPFW 89.3 FM, host and producer of "To Heal DC" Joni Eisenberg, and Shanti Norris, executive director of the Smith Center for Healing and the Arts, among others.
"Your efforts on behalf of women with breast cancer in the District and surrounding area are legion… Your tireless work in the community affects hundreds of people and you are a treasure in our city," Norris said. Naomi Mitchell, community liaison from Ward 6 Councilmember Charles Allen's office, also presented Jones with a congratulatory letter.
The ACS anniversary featured a recognition known as One Degree. The exercise offered the opportunity to honor a first degree relative, friend, or coworker who is or was diagnosed with cancer and reminded us that we're all just one degree from someone with cancer. Several members mentioned themselves as the One Degree. One spoke of her miraculous 19-year survivorship after being diagnosed with triple negative breast cancer, the most aggressive form of breast cancer—which is more prevalent in African-American women. African-American women have a higher breast cancer incidence rate before age 40 and are more likely to die from breast cancer at every age, according to the ACS Breast Cancer Facts & Figures 2011-2012 report.
Guests enjoyed door prize drawings and gift bags compliments of individuals, ACS Cancer Action Network, and The Thelma D. Jones Breast Cancer Fund. Refreshments were provided compliments of Graduate School USA, the event's host, who was represented by social worker Nichola Brown, LICSW. ACS was represented by Jessica Peterson, coordinator of Making Strides. Special thanks also to the Southwest Neighborhood Assembly (SWNA).
The FDA recently granted accelerated approval to the drug Ibrance to treat advanced breast cancer. Accelerated approval provides earlier patient access to promising new drugs while the company conducts confirmatory clinical trials. While the long term effectiveness of cancer treatments is often measured by patients' five year survival rates, the work of the ACS Breast Cancer Support Group in SW is an integral part of the coping and healing process for its community from diagnosis throughout survival.
By: Thelma D. Jones