Community Partners and Collaborators
"Alone we can do so little; together we can do so much" — Helen Keller
"We must change the culture — in research labs and cancer hospitals, insurance companies and the biopharmaceutical industry, philanthropy and advocacy, and the federal agencies — and come together to break down silos and form new collaborations to bring new hope to patients and their families." Former US Vice President Joe Biden, the Biden Cancer Initiative.
The Thelma D. Jones Breast Cancer Fund (TDJBCF) continues to identify entities and individuals to work with in pursuit of our mission to serve more residents, especially those in the historically underserved communities. As a result, the TDJBCF has collaborated with major cancer centers and hospitals, public and private sector entities, faith-based institutions, community-based organizations, nonprofits, schools, individuals and with the media to achieve our mission.
We are grateful to the many organizations and individuals who have contributed to our mission and vision. Below is a list of organizations and individuals that we have partnered or collaborated with extensively in this regard.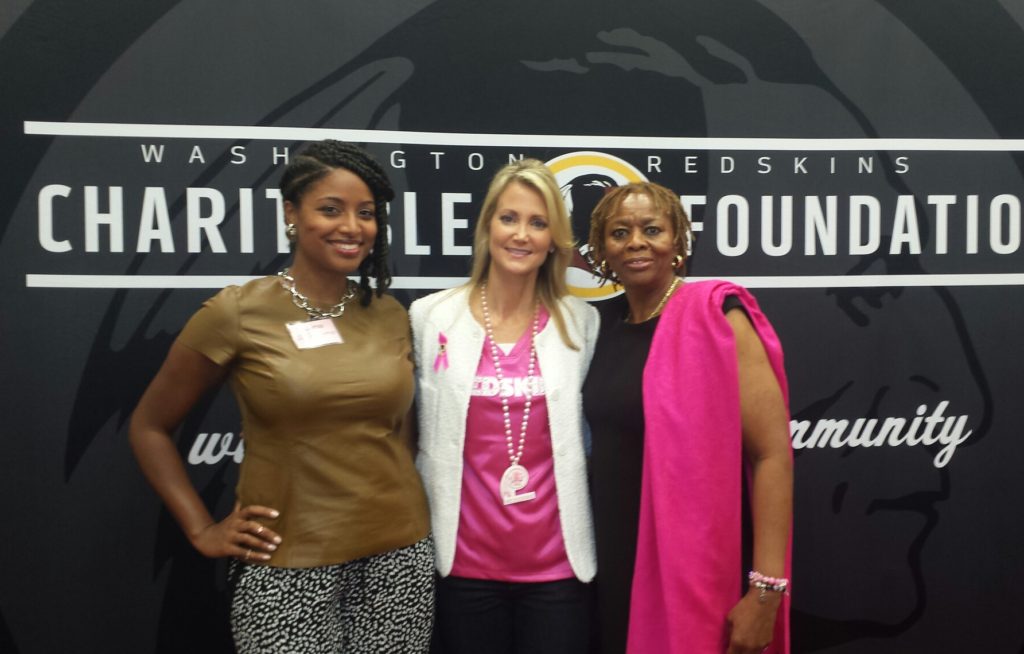 Advisors
Jan Adams
Lucille Adams-Campbell, PhD & Yoan Anguilet, PhD
Pamela J. Bradley
Michael Brookins, U.S. Air Force Veteran, Survivor & Advocate
Drs. Ngozi Okonjo-Iweala & Ikemba Iweala
Philanthropist Lavern Chatman and Lorraine Nagy, RN, MPH
Shanti Norris
Bonita Pennino
Dale MacIver (deceased)
Carole O'Toole
Carla D. Williams, PhD
Lori L. Wilson, MD FACS
Tracey Webb, MEd, Philanthropist and Founder, Black Benefactors
Peggy Cooper Cafritz (deceased)
District Government
Charles Allen, Ward 6, DC City Council
Anita Bonds, At-Large, DC City Council
Elissa Silverman, At-Large, DC City Council
Advisory Neighborhood Commission-6D
Department of Health
Department of Recreation (Young Ladies on the Rise)
Commission on Persons with Disabilities and DC Office of Disability Rights
Department of Employment Services
(Mayor Barry Youth Leadership Institute)
Public Schools (Amidon-Bowen Elementary and Jefferson Middle School Academy in SW DC)
Public Housing Complexes (James Creek, Greenleaf Gardens Midrise Apartments, Syphax Gardens and 1200 Delaware Avenue, SW)
Nonprofits
AARP's Southwest Waterfront Chapter #4751
Black Benefactors
Community Wellness Alliance
DC Campaign to Prevent Teen Pregnancy
Friends of Southwest DC
National Congress of Black Women
Smith Center for Healing and the Arts
Southwest Business Improvement District
Southwest Neighborhood Assembly
Southwest Renaissance Development Corporation
State Department Federal Credit Union (Ft. McNair Branch)
Thurgood Marshall Center for Service and Heritage
Durham College Alumni Association
Ward 7 Health Alliance Network
World Bank Group
World Bank Group-IMF Staff African American Association
Media
The Hill Rag
The Southwester
The Afro-American
The  Washington Informer
East of the River
TDJBCF Junior Ambassadors
Raihanata Barry
Jamal O. Jones
Seneca O. Jones
Derek Tawiah
Hospitals and Cancer Centers
Hospitals and Cancer Centers
Howard University Cancer Center
Howard University Hospital
Georgetown Lombardi Cancer Center
George Washington Cancer Center
Cancer Organizations
American Cancer Society
American Cancer Society Cancer Action Network
Breast Care for Washington, DC
Georgetown Lombardi Capital Breast Care Center
Susan G. Komen
Living Beyond Breast Cancer
National Breast Cancer Coalition
Edith P. Wright Breast Cancer Foundation
Federal Government
The White House (Obama Administration)
Congresswoman Eleanor Holmes Norton (D-DC)
Private Sector
ER Bacon Development
Safeway (SW Waterfront)
JMA Solutions
Ford Motor Company
Washington Nationals Baseball Club
Faith Based
St. Augustine's Episcopal Church
Westminster Presbyterian Church
Greater Mount Calvary Holy Church Health Ministry
Union Temple Baptist Church
Individuals
Iva Jean Ambush, Survivor & Jazz Vocalist
Kristen Berset-Harris, Survivor & Advocate
Elisabeth Brown, Advocate & Photographer
Glenda Cousar, RN, BSN, OCN
Christy Hicks, Advocate
Vyllorya Evans, Advocate
Elaine Graves, Advocate
Seneeya Jenkins Yates, Advocate
Andrea Roane, Journalist & Advocate
Walter D. Small, The Vibrations


TDJBCF Ambassadors
Jacqueline Beale, Survivor & Advocate
Regina Blye, Advocate
Sheri Denkensohn-Trott, Esq, Survivor & Advocate
Sylvia Jackson, Survivor & Advocate 
Rodney Minor, Survivor & Advocate
Scarlett S. Small, Advocate
Saundria Stokes Jackson, Survivor & Advocate
Anthia Peters, Survivor & Advocate
Denise K. Triplett, Survivor & Advocate
Angela "Angie" Walker, Survivor & Advocate
Pro Bono Service
Richard O. Kennedy, II, CPA
Donald M. Temple, Attorney
Webmaster,  Juke Joint Multimedia, LLC