Evelyn B. Curtis Spirit Award
There are many heroes and heroines in the field of health care who quietly go about their work without much public recognition. They include practitioners, philanthropists, board members, staff teams, nurses, interns, community leaders, faith-based leaders, and leadership staff, among others. The Thelma D. Jones Breast Cancer Fund is granting this award and $200 to a person who truly embodies the spirit of Evelyn B. Curtis.
Please take a moment to notice the contributions of others that merit recognition and nominate them in January 2021 for the Evelyn B. Curtis Spirit Award. Nominations are being accepted through 11pm EST Tuesday, February 23, 2021. Self-nominations are accepted as well. Please click here to complete the application to submit your nominee.  For questions regarding the application or the award, please contact Kathy L. Deboe at [email protected] or call (202) 701-9799.
Eligibility Requirements
Must be a breast cancer survivor;
Resides in the District, Montgomery County, Prince George's County or Northern Virginia for at least three years;
Has a demonstrated track record of working, volunteering and charitable giving to one or more faith-based or nonprofit organizations located in the District, Montgomery County, Prince George's County or Northern Virginia;
Values learning and education and has a demonstrated track record of advancing oneself;
Has made a positive impact in the lives of residents in the targeted geographical areas through their employment, giving and volunteering efforts; and
Encourages others to become philanthropic through a demonstrated track record.
Biography
Evelyn Bernice Curtis was born August 29, 1962 in Paget, Bermuda, the daughter of the late Edgar St. George Curtis and Ann Curtis. She departed this life March 8, 2017.
Evelyn graduated valedictorian from Bermuda Institute of Seventh-Day Adventist High School in Bermuda. She came to the States in 1980 to study nursing at Atlantic Union College, in Boston, MA where she received an Associate in Science in May 1984.  She continued her studies at Howard University Hospital Division of Nursing where she received her Bachelor of Science in Nursing in May 1989 and subsequently received her Master of Science in Nursing in August 2001. Her Master's thesis in June 2002, entitled "Nurses" Knowledge, Attitude and Pain Management Practices (as it relates to sickle cell), would later serve her well as she fought valiantly and often with a smile while enduring the daily pains from her diagnosis.
While studying, Evelyn often called home crying about being homesick; however, by the time she had completed her degrees, she loved DC and her newfound friends so much that she made it her home. This worked out well with her Bermuda family and friends, as Evelyn would regularly take them shopping for bargains, sightseeing and restaurant hopping.
For 26 years, Evelyn worked in the field of nursing at Howard University Hospital, Walter Reed Army Medical, and lastly Walter Reed National Military Hospital where she was employed at the time of her passing.  To the surprise of many, including her doctors, Evelyn worked from the time she was diagnosed until February 2017.
Evelyn was actively involved in various associations and marketing companies, including Chi Eta Phi Nursing Sorority, Inc. and the District of Columbia Nurses Association, Soul Purpose LifeStyle Skin Care Line, which later partnered with Youngevity Health and Wellness Company, MyEcon, Legal Shield, and Total Life Changes. Evelyn loved interacting with her associations and business ventures as this afforded her an opportunity to share her passion for her essential oils with everyone.
She was a giving person, supporting charity groups, including the Thelma D. Jones Breast Cancer Fund Support Group, American Breast Cancer Support Association (Knoxville, TN), and Susan G. Komen Breast Cancer Walk where she found the support comforting.
Evelyn's hobbies included giving gifts, shopping (especially for sneakers), swimming, spinning, attending church, socializing, driving, and traveling, hobbies she shared with her family and many friends.
Evelyn was a longstanding member of the Metropolitan Seventh-day Adventist Church where she served as the Secretary for Health Professionals, including lending a helping hand where needed. She was known for her sweet spirit, infectious laughter, and giving heart which left everyone with their own special memories of her.
Evelyn leaves to cherish her precious memories her Mother Ann Curtis, Sister Andrene Curtis, Brother Edgar Curtis, Special Aunt Adelle Dally, Special cousins Andre' and Michael Binns, and a host of relatives and friends.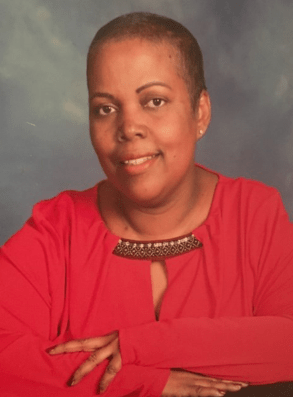 Evelyn B. Curtis, AA, BSN, RN, MSN