Thelma D. Jones Breast Cancer Fund Support Group (TDJBCF Support Group)" 
Established in April 2010 and modeled after a support group at the World Bank Group, the Thelma D. Jones Breast Cancer Support Group is the signature program of the Thelma D. Jones Breast Cancer Fund, providing a warm, welcoming, safe and secure environment for participants to discuss their diagnosis and concerns while receiving hope, inspiration and courage during their journey. As someone who has traveled the journey with an extensive support system, Founder Thelma D. Jones strongly believes that no one should travel their cancer journey alone. The highly-acclaimed and three-times nationally recognized support group meets regularly at 6:30 p.m. on the third Wednesday of each month in Southwest DC, unless otherwise specified. Approximately 1000 women, men and young girls have attended the meetings since its inception. Most participants are breast cancer survivors who attend on a regular basis and periodically invite other survivors who become regular members as well.
A highlight of the support group is providing a forum for breast cancer survivors as well as a speaking venue for renowned guest speakers. Past speakers have included, among others:
Activist and Comedian Dick Gregory
Congresswoman Eleanor Holmes Norton (D-DC)
Willie Jolley, Motivational Speaker
Lucille Adams-Campbell, PhD, Associate Director for Minority Health and Health Disparities Research, Associate Dean for Community Health & Outreach, and Professor of Oncology at Lombardi Comprehensive Cancer Center at Georgetown University Medical Center
Elmer E. Huerta, MD, MPH, Director, Cancer Preventorium, Washington Cancer Institute, MedStar Washington Hospital
Sharon Farmer, Former Director, White House Photography
Aminah Keats, ND, FABNO (Board Certified, Naturopathic Oncology)
Richard O. Kennedy, MD, Former Chief Medical Officer, World Bank Group
Melanie Nix, Triple Negative Breast Cancer Survivor, Advocate, & Co-Founder, Breast Cancer Comfort Site
Lorraine Nagy, Country Health Specialist, RN, MPH, World Bank Group and Co-Founder, World Bank Group-IMF Breast Cancer Support Group
Shanti Norris, Executive Director, Smith Center for Healing and the Arts
Carole O'Toole, Director, Smith Center for Healing and the Arts Institute for Integrative Oncology Navigation (co-created Smith Center's national training in integrative cancer care navigation). Founder Thelma D. Jones was trained as a community breast care navigator under O'Toole's tutelage.
Bridget Oppong, MD, FACS, Assistant Professor of Surgery at Georgetown University & Attending Physician, MedStar Breast Health Program at MedStar Georgetown University Hospital
Bonita Pennino, MS, Maryland and DC Government Relations Director, American Cancer Society Cancer Action Network, Inc.
Nicole E. Thompson, MS, Genetic Counselor and Director, Howard University Cancer Center Genetics Program
Lori L. Wilson, MD, FACS, Assistant Professor, Surgical Oncology, Department of Surgery, Howard University Hospital
Mike Brookins, BS, Breast Cancer Survivor, & U.S. Air Force Vietnam Veteran
Rosemary Reed Miller, Author, Entrepreneur (Toast and Strawberries)
Speakers present or lead discussions in their areas of expertise relating to breast health, the continuum of cancer or healthy living.
2020 MONTHLY SUPPORT GROUP DATES
June 17: Breast Cancer Survivors Guidelines on COVID-19
July 15: A Virtual Evening with Smith Center for Healing and the Arts
August 19: Black Philanthropy Month Celebration
September 16: 8th Anniversary Celebration of TDJBCF & 68th Birthday of Thelma D. Jones
October 21: Celebration of Breast Cancer Awareness Month
November 18: Breast Cancer Survivors with Disabilities
December 16: The Spirit of the Season – Breast Cancer Survivors and Caretakers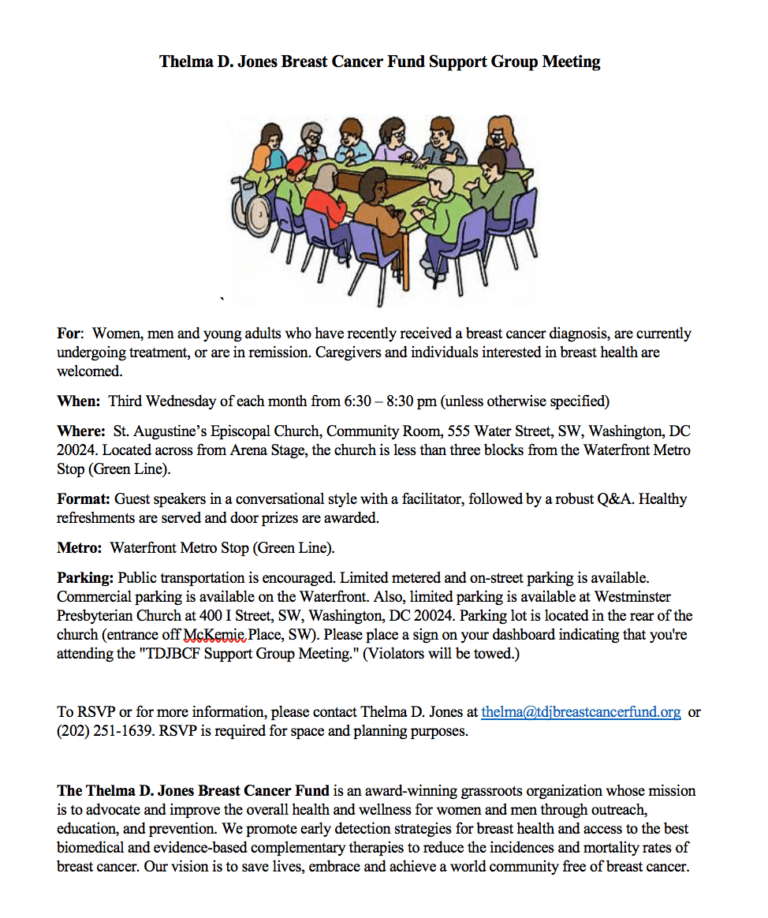 Share this information with someone that needs support.