201 WOMEN'S HISTORY MONTH BREAST CANCER SUPPORT GROUP MEETING
Theme: "Valiant Women of the Vote: Refusing to Be Silenced"
via Zoom and Face Book Live
Wednesday, March 17, 2021                          6:00 – 7:30 pm
Agenda 
Ronnette R. Meyers, Emcee
President & CEO
JLAN Solutions
Welcome and Opening Remarks (5 minutes)
Thelma D. Jones
Founder, TDJBCF 
Women's History Month Blessing (2-3 minutes) Dora Blair
Breast Cancer Survivor
A Survivor's Story (5 minutes) Shalita Lyons 
Founder & Executive Director
She Still Smiles, Inc. 
Guest Speaker (15 minutes) Lori L. Wilson, MD, FACS 
Associate Professor of Surgery & Division Chief of Surgical Oncology
Howard University Hospital
Q&A (10 minutes)
 Brief presentation and Zoom and Facebook Introductions  (18 minutes)
LaRuby

 

Z. May, Managing Member, May Lightfoot PLLC – Overview of the Zantac litigation (7 minutes)

 

Introduction of Zoom and Facebook Audience (11 minutes)
Closing Remarks & Acknowledgements  (5 minutes) Jan Adams
President & CEO
JMA Solutions &
TDJBCF Honorary Board Member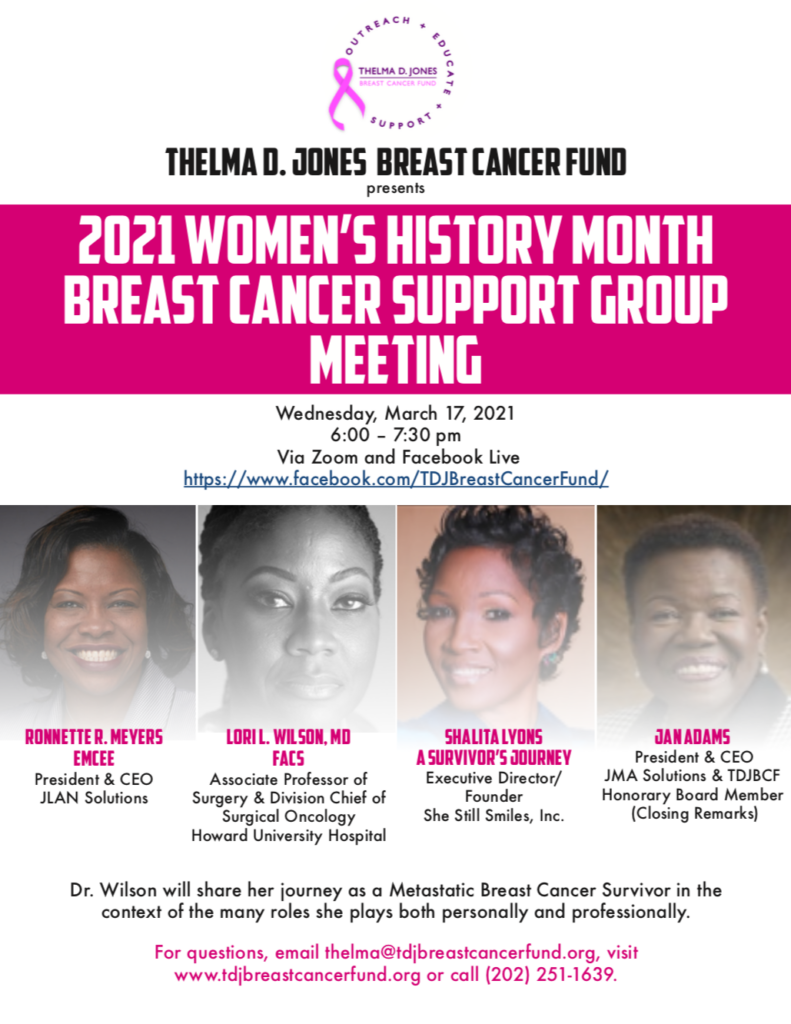 **************************
Special Thanks: Newsletter Editor Lashanah Thomas, TDJBCF Ambassadors, Pentandra Digital Marketing Consultors LLC, and the A-Team (Rodney Minor, Executive Producer, BR Consulting, Sarita Minor, and Derek Tawiah)
,
Next Meeting: TDJBCF 11th Anniversary Support Group Meeting, Wednesday, April 21, 2021,  at 6 pm via Zoom and Facebook Live.
May Meeting: Mental Health Awareness Month, Wednesday, May 19, 2021, at 6 pm via Zoom and Facebook Live.
June Meeting: Wednesday, June 16, at 6 pm via Zoom and Facebook Live. The TDJBCF Support Group Meeting will be dedicated to the FDA Oncology Center of Excellence "National Black Family Cancer Awareness Week" June 17, 2021 –  June 23, 2021.
Like us on Face Book at https://www.facebook.com/TDJBreastCancerFund/ 
Visit us at www.tdjbreastcancerfund.org    
Follow us on https://www.instagram.com/tdj.breastcancer.fund/ 
Watch us on YouTube at